This weekend I went to Railay Beach, a peninsula between Krabi and Ao Nang. And while I enjoyed a long-tail boat ride on the Andaman Sea and laying out in the sun on the soft sand coast surrounded by limestone peaks I was reminded China. The Li River boat cruise, located in Guilin, China, is one of the most popular tourist attractions of southern China and in November of 2014 I took a trip with my family to Guilin. There the limestone peaks loomed over me while I floated down the banks of the river.
 I was hit with the realization that I have been in Thailand for just over a month. This is the longest and farthest I've been away from home and even though I've been to Asia before Thailand is truly a different experience.
Unlike my trip to China, I came to Thailand with no knowledge of the language. I couldn't even muster a "hello" or "thank you". I was lucky that upon arrival the University had arranged someone to pick me up because I don't think I could navigate from the airport to the school by myself. My second day in Pathumthani I had gotten lost and tried to ask a stranger on the street if he knew which direction Rangsit was and he looked at me blankly.
Since then I've been trying to tackle the language barrier by taking a Thai Language class and now I am proud to say that I can say "can I please have a plate of rice with pork and egg". My previous years of studying Mandarin Chinese has helped a little in the process, such as differentiating tones and learning Thai romanization, and much like anyone learning a foreign language will tell you full immersion is the best way to learn. I do my best to employ the little amount of thai that I know whenever possible. Whether it's directing a taxi driver to take me to Moh Rangsit (Rangsit University), or asking the server at a restaurant to make my dish may phet (not spicy)
My Chinese language skills have helped a little when communicating in environments like markets. I've often found that if the shopkeeper doesn't know English and I don't know Thai we can meet in the middle and speak in small Chinese phrases, such as duo shao qian? (how much is this?). I didn't expect to use my Chinese while I was here, but am happy to get to practice it.
The streets of Thailand are similar to China, a long line of little shops and restaurants where the sidewalk changes texture and height with every step you take. It's easy to try new foods just by walking down a street and picking a shop at random.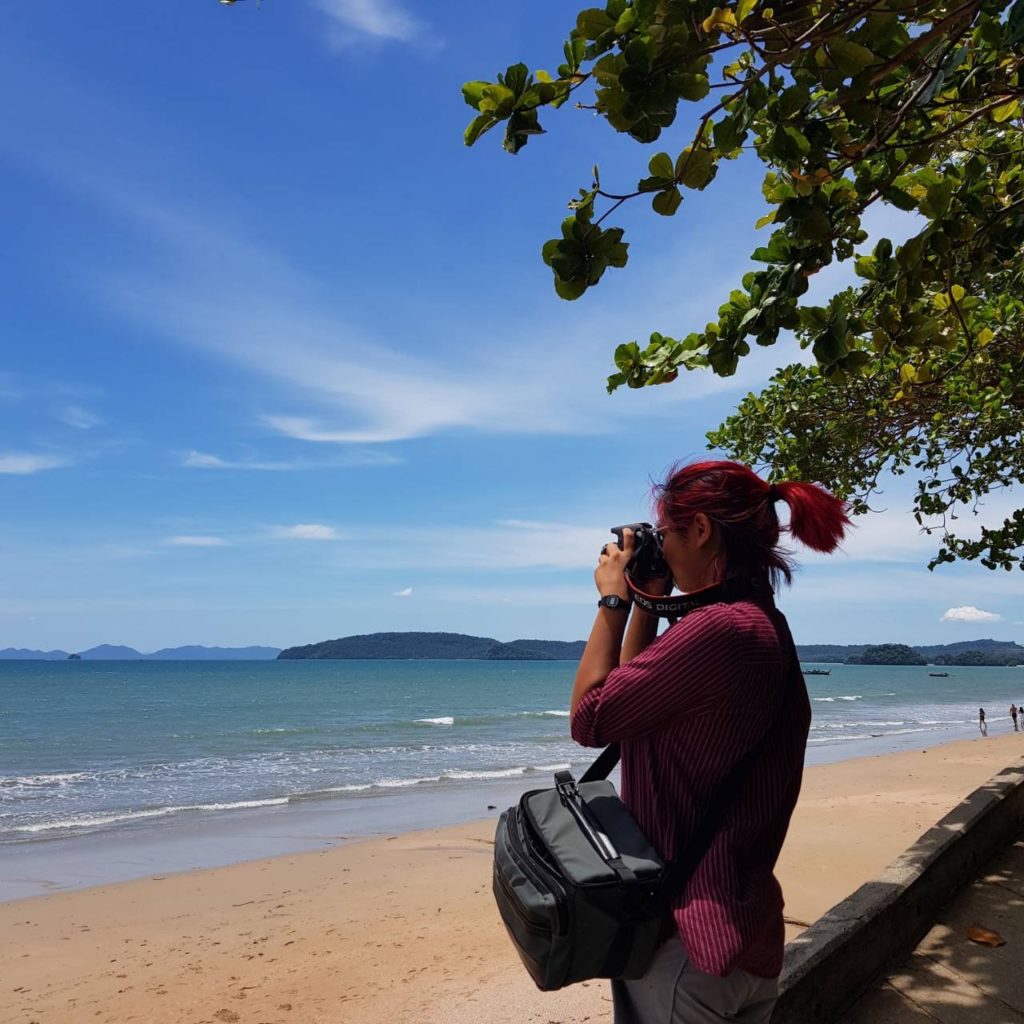 One of my biggest regrets is that I don't know half of the names of dishes that I've eaten here since they're written in Thai. I always just point to pictures on menus. But I'm surprised by how many salons and spas I pass by on one street, who knew so many people in Thailand need to get pampered in one day?
With one month down in Thailand and three more to go I can't wait to visit more temples, eat more traditional Thai dishes and learn more about the culture. Maybe by the end of this trip I'll be able to say "what direction is Rangsit University?" in Thai!
All photos belongs to Ellora Bultema.